Good Enough is taking a summer pause! We each have travel plans lined up for the summer. We each have at least two children in our homes, begging for attention. And we each truly appreciate extended breaks as a means of reinvigorating ourselves to the ever important task of building bemusing things. So while you definitely shouldn't expect anything from us ever, especially don't expect any more newsletters over the summer. As the Nintendo Wii would say, why not take a break?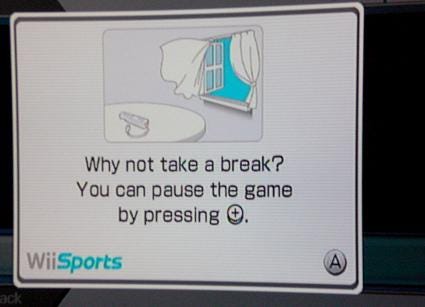 1. Amusement
I just spent a week at the Orlando amusement parks of the Disney and Universal companies. It was way too much for way too long, but I can give you a couple of ride recommendations. If you even mildly enjoy Star Wars, or you like to be surprised by new things in amusement rides, the Star Wars: Rise of the Resistance experience at Hollywood Studios is very well done. Not quite the same level, but the Avatar Flight of Passage ride at Animal Kingdom is also something that must be seen.
The entire Star Wars area at Hollywood Studios is a sight to behold. Corner turned after corner turned has another vista of Star Warsy views. You might feel like you were there if not for the thousands of sweaty park-goers all around you. When I was last at Hollywood Studios 10 years ago, there was one Star Wars ride with long lines and nothing else. Now that ride is a five-minute wait as everyone floods the new Star Wars area. A lot has changed.
The Avatar area of Animal Kingdom is also all new and pretty amazing to look at. They've recreated the floating islands in quite an interesting way. It is cool, though it does seem like a big bet. The original movie came out thirteen years ago. A sequel is coming out this winter and three more movies are planned after that. I gotta say the trailer for the second movie…isn't that encouraging. Though I remember Titanic getting panned by the trailers yet the final version seemed to do okay. I also think the second and third movies were intended to be out by now. I guess I wouldn't bet against James Cameron. —BH
2. Twitter Wins Again
centaur, france, 15th century pic.twitter.com/lGbbztixLW

— weird medieval guys (@WeirdMedieval) July 1, 2022
And here's the animated version.
3. Good Enough Reviews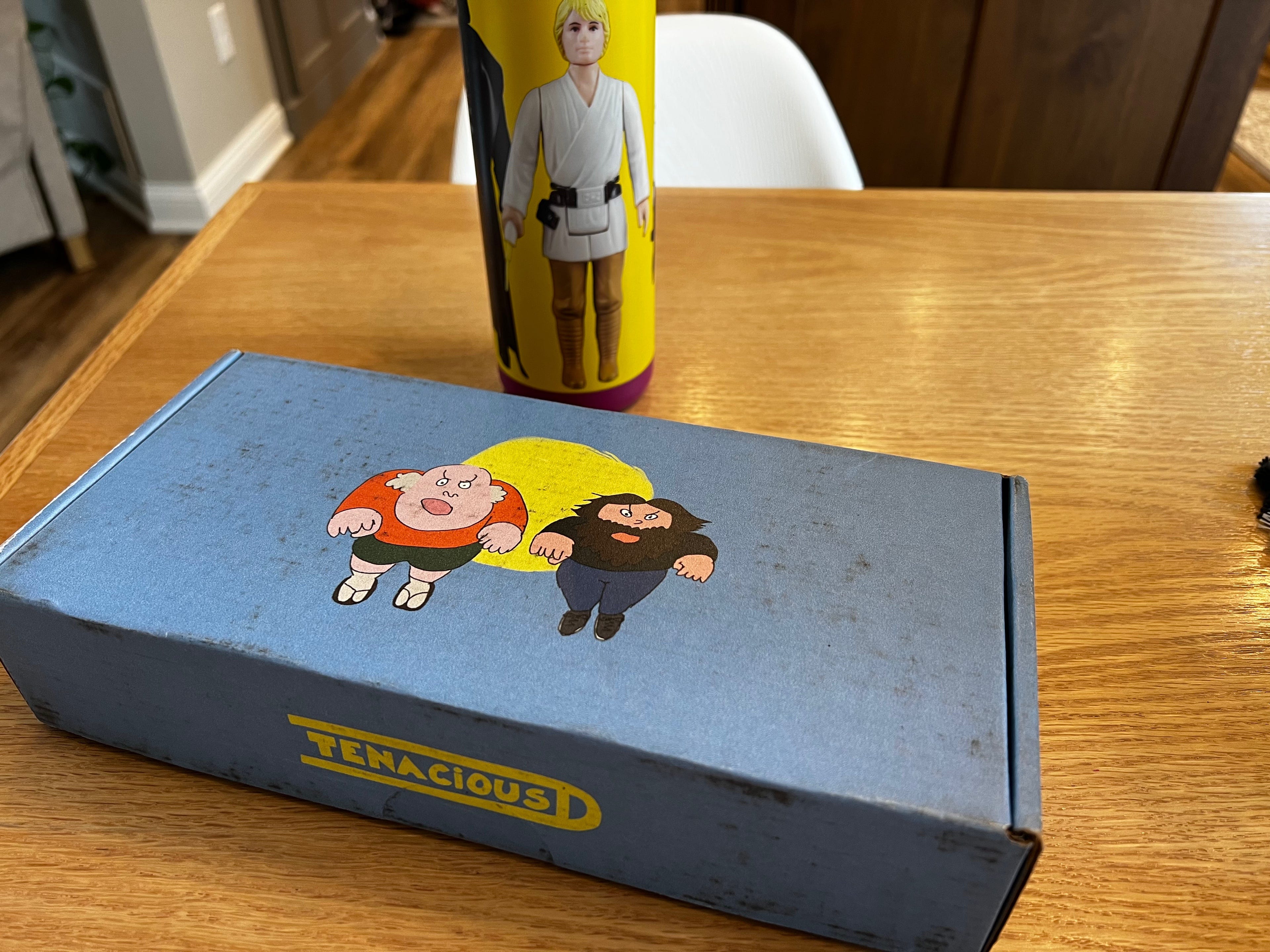 When Tenacious D launched a new fiber bar, it seemed obvious that I had to try it. The promise of regular snack that kept things regular, well, that was a promise 44-year-old me hoped that Tenacious D could keep.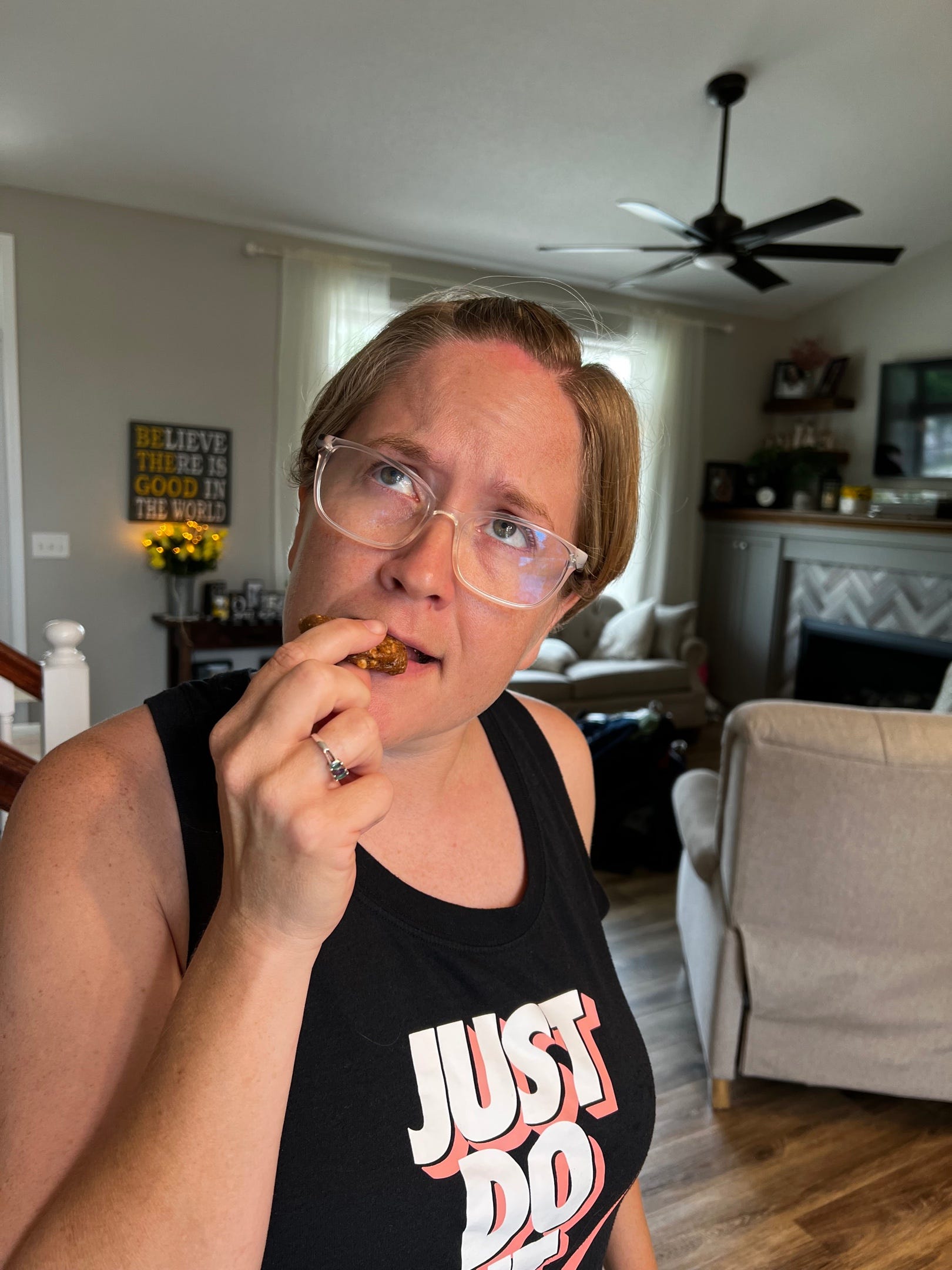 I found the fiber bars to be moist, yet substantial. There was the lightest hint of chocolate, but it was mostly a peanutty affair with an oat chew. Jesse said, "Yeah, needs more chocolate to be called 'chocolate chip.' I taste peanut but not much chocolate. Still, quite edible."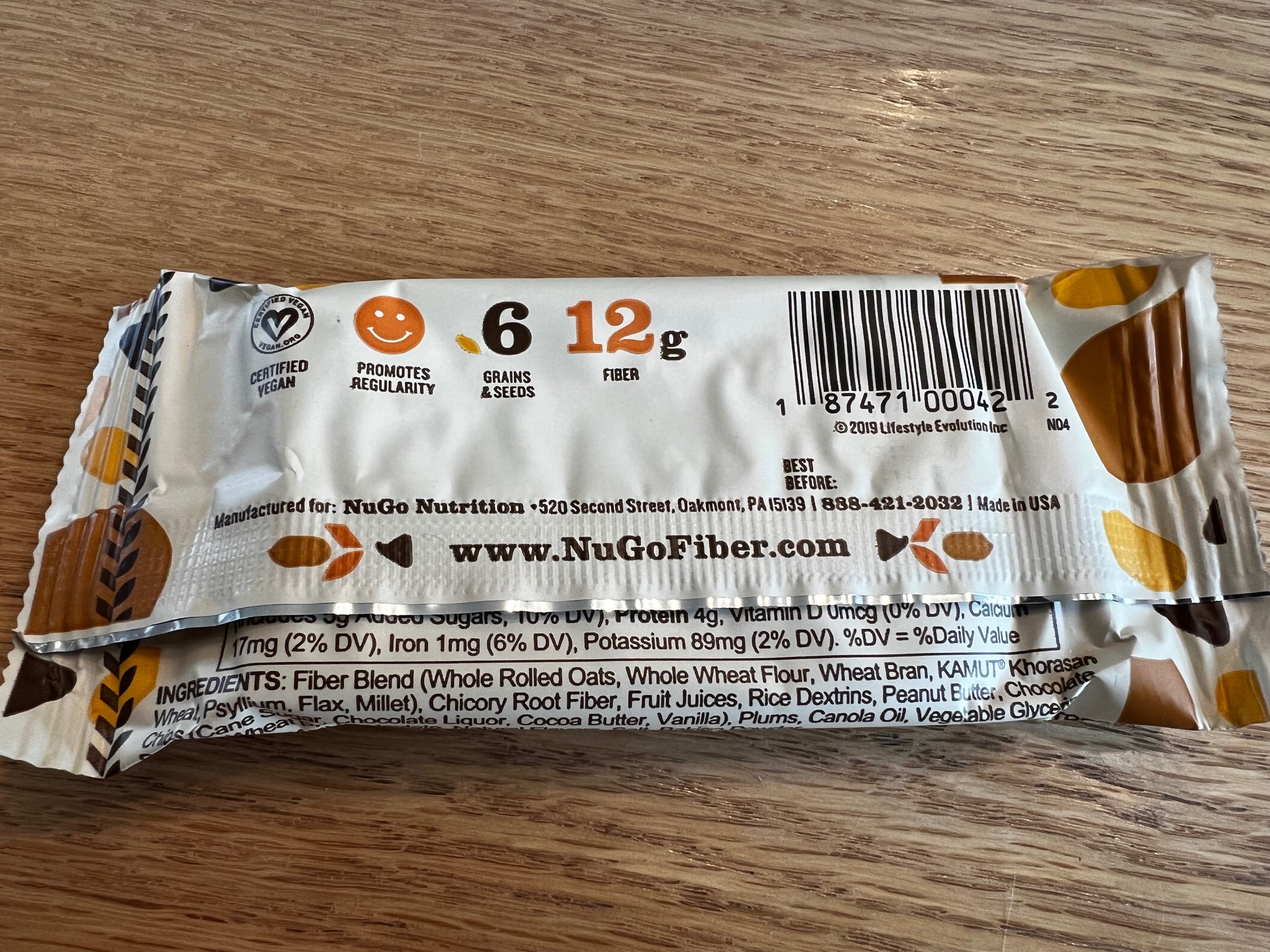 I was disappointed that the bar packaging itself did not say a word about Tenacious D. It seems to be a fancy box around an existing product, charging an extra $12 for the famous Tenacious D branding. Kind of weak, JB & KG.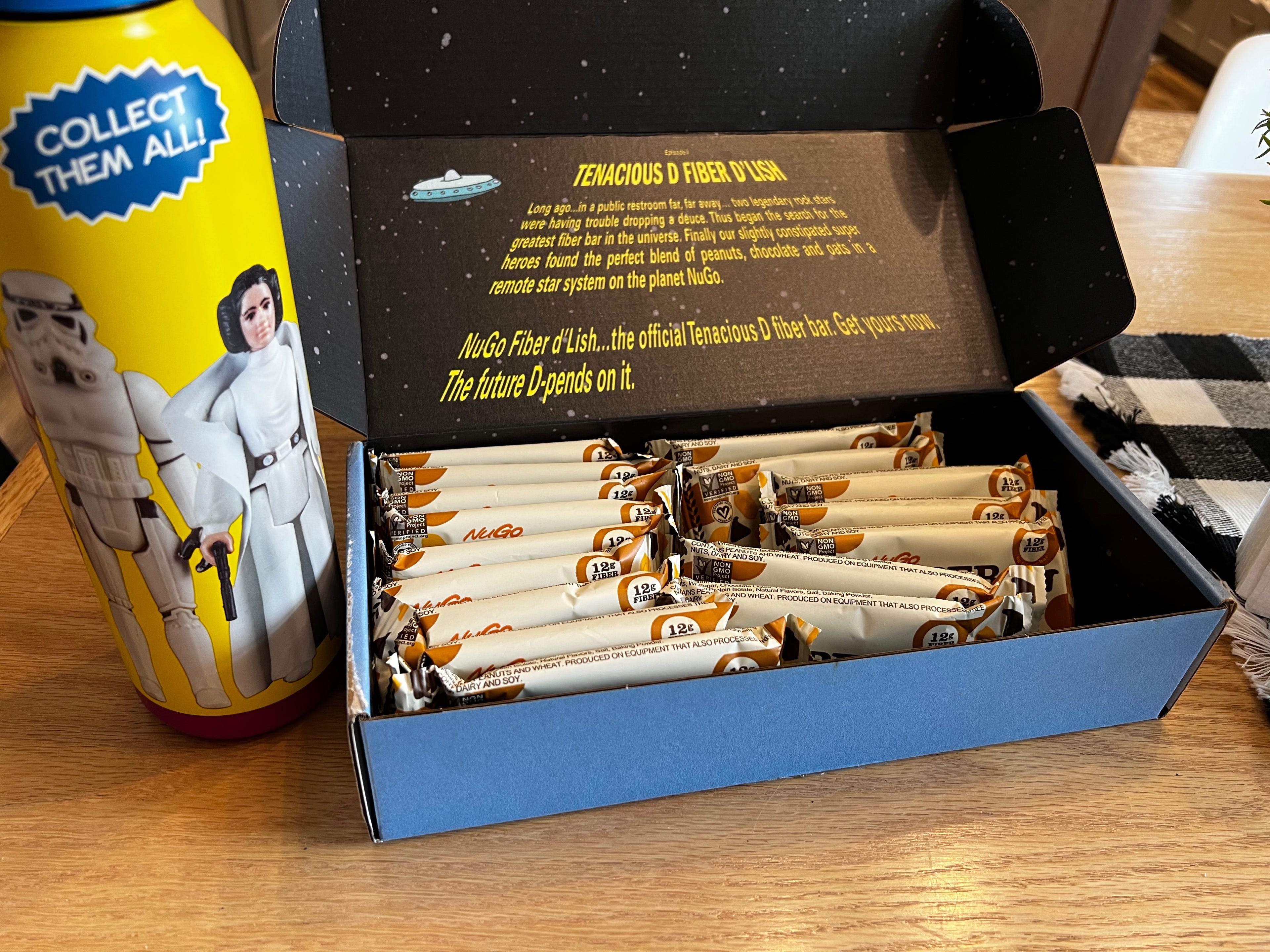 As for if it works? That'll take some time. I give the Tenacious D's branded box containing NuGo Fiber d'Lish Peanut Chocolate Chip bars 🥒🥒🥒🥒 pickles (out of 7 pickles). Good bars, bad D. —BH
4. More Good Enough Reviews
While preparing for the Good Enough Reviews, I learned that there isn't a proper emoji for pickles. How can that be? According to Google, apparently some think the cucumber emoji can pass for a pickle. I mean, what?

Here's how the cucumber emoji show up on the most popular platforms:

What is Apple thinking? Anyway. Here are some quick reviews (out of 5 pickles):
BARRY on HBO (🥒🥒🥒🥒🥒). I'm late to this show and have only seen three episodes of the first season. So far, so good. I plan to watch more of it during my stay in Taiwan.
Peaches (🥒🥒🥒🥒🥒). My favorite fuzzy stone fruits started showing up at our farmer's market last weekend, and they have been delicious! I recommend!
Zombie Kittens (🥒🥒🥒🥒🥒). Have you played Exploding Kittens? My wife, who doesn't like to play games, found this slightly updated version and my kids and I love it.
A Righteous Thirst For Vengeance, Book 1 (🥒🥒🥒🥒). This comic book is a strange one. I guess you can call it a crime story, but it feels so quiet, despite all the violence in it. Maybe it's the pacing and wordless panels (which I love), but the mood reminds me of a cool summer night. André Lima Araújo's art is excellent.
Stranger Things on Netflix (🥒🥒). We finally gave this popular show a try last week and gave up after five episodes. The last straw for me was when the sister inexplicably crawled into the tree hole at night––who in their right mind would do something like that!?––and then Jonathan stood there yelling her name like a fuckin' idiot. Our soon-to-be middle schooler drew this: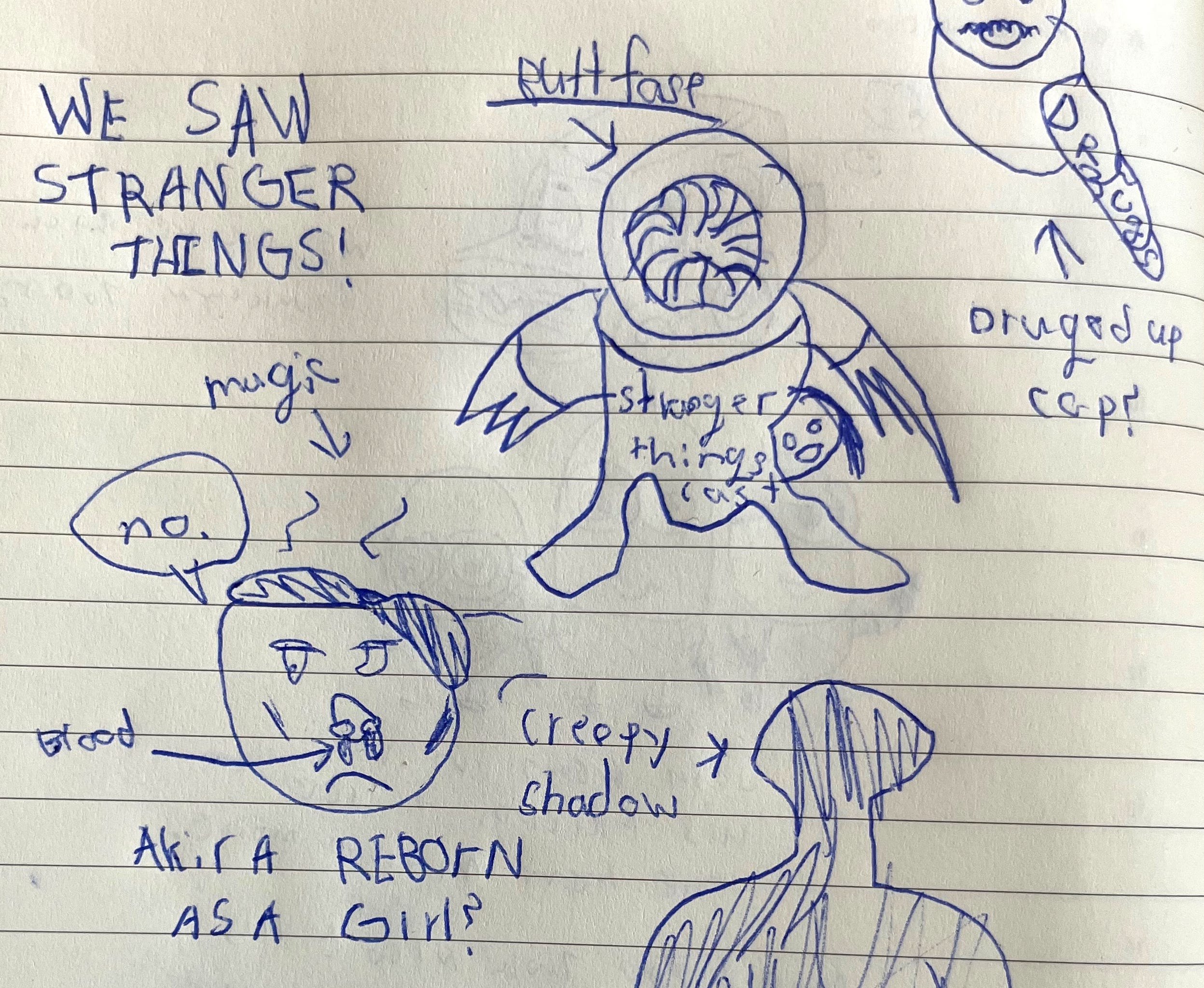 —SL
5. Halloween
My older son, who just graduated from middle school, decided two weeks ago that he was going to start watching horror movies.
One night he wanted my help in choosing which scary movie to watch and showed me five movie trailers, all of them extremely unpleasant. The ones he showed me looked like they're low budget and shot with cheap cameras, except for one: Halloween (2018). I looked up who directed the movie, and it was a guy named David Gordon Green, who I've never heard of.
Browsing through his filmography, I noticed that he directed several episodes of The Righteous Gemstones (🥒🥒🥒🥒🥒), which I thought was weird. Then I learned that he also directed Vice Principals and Eastbound & Down, as well as one of my favorite comedies, Pineapple Express.
Turns out David Gordon Green and Danny McBride were film school buddies and often collaborate. And McBride––the star, creator, and writer of The Righteous Gemstones––is one of the writers of Halloween (2018) and its two sequels! Exclamation! That's so weird!
David Gordon Green is now working on a new installment of The Exorcist (and no, I will see neither the original film nor the new one).
(And if you're curious, my weird son chose to watch Sinister and, even though he wouldn't admit it, was scared out of his mind and couldn't sleep that night. He hasn't seen another horror movie since.) —SL
6. In Conclusion
We hope you will be okay over the rest of the summer without this excellent newsletter. Fall will come soon enough, but if you find yourself missing us, here are some suggestions on filling that void:
Water. Stay hydrated.
Eat some watermelon.
A cucumber salad is refreshing in the heat.
Read Four Thousand Weeks. (Spoiler alert: it's not about time management.)
And don't sleep on cucumber salad in a bag.
Be well until we meet again.